Travel Notes from Beijing
by Michèle Vicat

In keeping with the spirit of its mission, ThePointerAdventure went to Beijing this summer 2009 to reinforce links with the Chinese art and film market. We found a buzzing, cosmopolitan city, open to private entrepreneurship.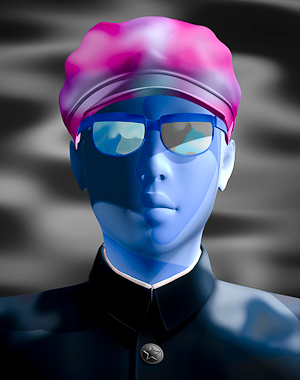 Fang Ke, "Portrait of Idealism in Cyberspace 07"
©Fang Ke, digital print, 40cm x 50 cm, 2008
Everything is possible in Beijing, the Asian city that never sleeps. Here you will find tiny shops where you can buy cigarettes, beer, packs of dried food, instant noodles, yoghurt, stamps, …in short, anything you are likely to want in a night filled with insomnia. The cultural scene is vibrant –though the art market has suffered from the financial crisis.
Beijing offers an incredible openness to youth. "I am here for the hip hop," says an African American in his early twenties, from Washington DC. Who would have expected that China would be an outpost of Harlem?
We met artists, art dealers, critics, filmmakers, scholars; we discovered street happenings; we visited art zones and attended the 6th China Documentary Film Festival in Songzhuang, a small artistic village at the outskirts of the city.
China is the main focal point for ThePointerAdventure. The surge of interest in China today encompasses economic, social, and artistic scenes.

We follow artists who have been affected by the profound changes in their own societies and who are redefining communication between cultures. It is interesting to see that many Chinese artists who went into exile in the 1980s and 1990s have either returned to China, or are re-establishing strong emotional and cultural links with the Middle Kingdom. Many returned in order to express themselves, teach, and benefit from the boom in China's art market. Their foreign experience is helping them to internationalize ideas at home. Working closely with these artists gives us a unique opportunity to understand the transformations of Chinese society as seen through its own eyes.
Chinese contemporary art was an extremely profitable investment until the global economic bubble cracked last fall. Many thought that the financial crisis would strike a fatal blow to contemporary Chinese art. Others (and many Chinese artists are among them) think that the global recession will have a positive effect on the art itself. It will allow artists to re-evaluate their work and it will eliminate those who were beginning to lose sight of their art while being seduced by a desire for commercial profit.
According to Fabien Fryns, the director of F2 Gallery in Caochangdi District, the financial crisis has mainly affected the middle part of the art market, which includes art priced between US$50,000 and US$500,000. Above these prices, collectors are still interested in pieces considered to be landmarks, but good work is more difficult to find and harder to negotiate.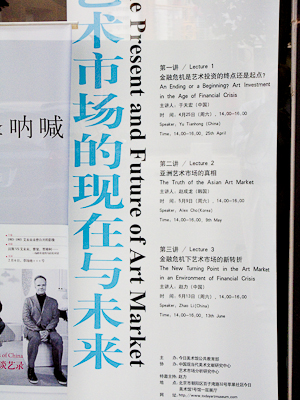 Beijing's Today Art Museum Poster
The crisis has also made the lower end of the market more attractive and provided an opening for younger artists who are less expensive. The recent Asian auction at Hong Kong Christie's International restored confidence in Asian art according to Brian Wallace, the director of The Red Gate Gallery, a pioneer gallery that has been operating in Beijing since 1991. Christie's sold twice its presale estimate, although it offered a smaller number of pieces for sale. Some artists like Cai Guoqiang and Zhang Xiaogang maintained high prices. It will take more analysis to see where Chinese art is going in the future.
The most important collectors of contemporary Chinese art today are not Chinese. For instance, the interest in Chinese contemporary art in Switzerland, which has some of the world's most important collectors, was initially created by Uli Sigg, a former Swiss ambassador to China. But things are changing in China. The World Bank just raised China 2009's economic growth forecast to 7.2% and with China's economy still expanding due to important investments in infrastructure, there will be more and more billionaires in China who are likely to be interested in art in general, and more specifically in Chinese artists.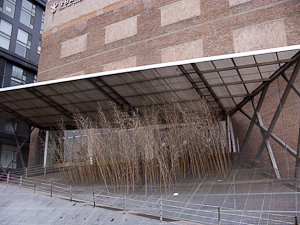 The Today Art Musem (TAM),Beijing,
photo ©William Dowell, 2009
An interesting model is the Today Art Museum (TAM), located in a new Central Business District in the Chaoyang District of Beijing. It is a private cultural institution, founded in 2002 by Mr. Zhang Baoquan that offers a space for reflection on Chinese contemporary art. The current exhibition "Yi Pai: Reflections of Chinese Contemporary Art," curated by Gao Minglu, with installations, sculptures, video, and photography is an example of the growing interest. The exhibition reflects on the meaning of "representation" in the West, a notion that has strongly influenced and imprisoned Chinese art for more than a century.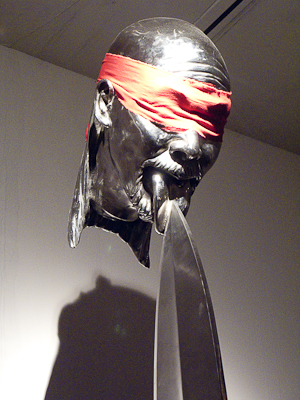 Cang Xin, "Fable No. 1," stainless steel, 50cm x 30cm x 346cm, 2007, photo ©William Dowell, 2009
The sponsorship for this benchmark exhibition comes mainly from Western companies based in China but some Chinese investors also helped.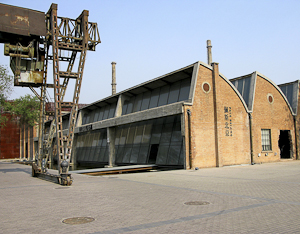 798 District, photo ©Michèle Vicat, 2009
Art districts are mushrooming in the capital and its vicinity. The most famous one, Dashanzi 798, has been making the cover stories of art magazines since 2002, when art galleries started to occupy an empty former military factory complex. The area still belongs to the military and working factories continue to produce electronic components in buildings that were erected by East German architects in a Bauhaus-style in the late 1950s.
It is a very strange feeling to come out of the Ullens Center for Contemporary Art, an impressive 8,000m2 space, that intends to be China's most comprehensive not-for-profit organization for contemporary arts, then take a side alley and hear the noise of machines hammering metallic objects and see a worker smoking a cigarette and gazing at us in bewilderment.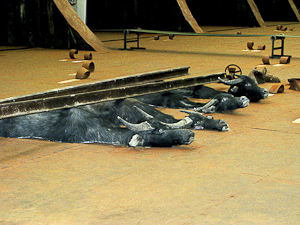 Qiu Zhijie, Installation at the Ullens Centre for 
Contemporary Art, Beijing
photo ©Michèle Vicat,2009
As Pan Xing Lei, an artist friend who was leading us through 798 put it: "These guys will never buy contemporary art. They are completely cut off from the jet-set society that is looking at the best market deal to make their walls pretty while workers have to put food on their own table." This dichotomy is enhanced by the fact that many fancy cafés, small restaurants and refreshment stalls are taking former gallery spaces, which cannot continue to pay the constantly increasing rent. Interestingly enough, the red umbrellas offered by Coca-Cola that dot the refreshment stands echo the traditional color of China.
798  District, photo©Michèle Vicat, 2009


Construction in Caochangdi District
photo ©William Dowell, 2009
Artists in Beijing question whether 798's future can represent cutting edge art, even though it is the third most visited tourist attraction in the city. Brian Wallace remarked that the trend at 798 is more towards retail art.
Many artists have left their studios and major galleries are moving out to more remote neighborhoods like Caochangdi, located 5 km North of 798.
Caochangdi, a traditional village, is buzzing with trucks pouring mortar and bricks into new constructions of 4 to 5-story buildings that will eventually host art galleries, restaurants, maybe even fashion shops.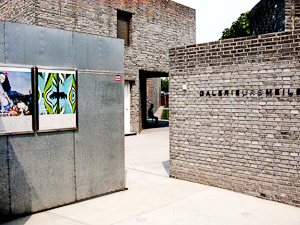 Gallery Urs Meile, Caochangdi District,
photo ©William Dowell, 2009
For the moment, famous art galleries such as the prestigious Urs Miele Gallery from Lucerne are operating from compounds that resemble palatial estates. The scene looks quite surreal, with artistic zones completely cut off from each other and coexisting with large business complexes like Staples, a leading American office supply company. Caochangdi does not yet attract huge crowds. "We do not get the drop-in crowd, " said Fabien Fryns, "the passers-by, the young couple with cameras, but that is not what we are looking for."
The Village at Sanlitun
photo ©William Dowell, 2009
Crowds of young fashionable professionals, families with small children, and students strolled leisurely by on a Saturday afternoon on the main commercial square of the trendy area of Sanlitun to watch and comment on two groups of artists covering two huge wall-like structures with spray paint. "Patchwork," the name of the event, involved French group TT Crew and Beijing's BJPZ, who painted 114 canvases in one afternoon. The Village, as this area is called, is home for Apple, Adidas, LeSportsac, Starbucks and Steve Madden.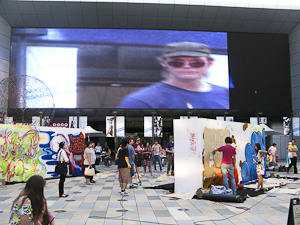 "Patchwork" graffiti event at Sanlitun, Beijing
photo ©William Dowell, 2009






The "village" benefited from the gentle competition between these two graffiti groups who provided a light touch to the otherwise purely commercial concentration of expensive shops. Graffiti was the pretext that made it possible to return to the funky street atmosphere that people in Beijing are losing day after day as a result of rapid urban development. A Chinese student of a business school in Beijing, intrigued by the miniature Flip Mino HD video camera that we were using, shared with us his passion for films and his admiration for Truffaut.

The 6th China Documentary Film Festival was held in Songzhuang Artist's Village, another artist community at the outskirts of the capital. Artists like Fang Lijun and Yue Minjun once worked there ten years ago. Villagers understood quickly the importance of business collaboration with artists! With the construction of houses and studios on agricultural plots, villagers today have to buy their fresh produce and meat from a market that imports the food from more distant farms. The villagers even sponsored the construction of a museum and want to take over the artistic scene—a development that has the artistic community itself concerned!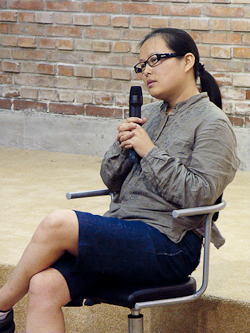 Film Director, Huang Ruxiang
photo © William Dowell, 2009
This year, the festival showed the latest Chinese documentaries such as "The Sound of Silence"(2008), a film by Wang Yang recording the journey of several young people facing changes in their life over a period of seven years. The impossibility of finding a decent job after a college education leads to interrogation about the disappearance of youth. "Up the Mountain" (2009) by one of the rare Chinese female filmmakers, Huang Ruxiang, talks about a Christian family whose members are trying to relate the rules of a controlling church to the requirements of civil society. This leads sometimes to disruptive behavior.
We particularly liked "Disorder," a 58 minutes documentary produced in 2009 by the director Huang Weikai. The black and white images play like a newspaper compilation of 20 different urban events that are the consequences of the disruption of the society due to rapid urbanization. A madman, half-naked is caught in the middle of automobile traffic and does not seem to notice it. The police arrive, put him on the sidewalk and try to understand who he is, what he is trying to do, if he has a family, where he is going. When he fails to answer and tries to return to the street, the police try to feed him and find him clothes. In another sequence, pigs run on a highway after a truck accident –and seem to
Spectators at the Songzhuang documentary festival
photo ©William Dowell, 2009
enjoy this last stretch of freedom. Again, policemen arrived at the site of the accident and try to gather the animals. The scene is worthy of a Marx Brother film in which trying to catch the unpredictable makes you an integral part of the unexpected. The documentary, though dealing with the strangeness of people's behavior and a lack of social order, is full of moments of humanity (the police feeding a lunatic), derision (after having gathered the pigs that are taken for slaughter, a police man says to the conductor of the truck that the platform is too small and that there is no ventilation for the pigs, an inhumane act), and rough drama (a family finds a baby girl abandoned in a field and does not know what to do with her.) Finally, the short version of "Petition" (122 minutes in contrast to the long version of 318 minutes), by Zhao Liang (2009) drew applause from the audience at several points during its showing. For 10 years, the director followed the life of people who, year after year, appeal to the higher authorities in Beijing for help. Coming from various parts of the country, this is their last resort for justice and they finally end up by living around Beijing Southern Railway Station in squalid conditions. Their story is one of hope and faith in humanity and in the political and judicial system.

Westerners have profound questions about China and its local and international ambitions. As for the Chinese, they are already expanding the intellectual ideas and concepts developed at the national level to the global stage. The intersection of local and international culture is the focus of "Platform8700," a retrospective that ThePointerAdventure is currently conceptualizing –8700 being the distance in kilometers between Beijing and Geneva. Documentaries are the meeting point between the recording of events or personal experience and the internal perception of a filmmaker. By definition, they cannot be objective and the tension between the "actor," the maker and the viewer is what makes them so important historically. It is a long, deep cry, reaching out.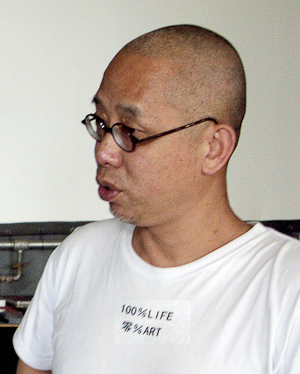 Film Director, Wu Wenguang
photo ©William Dowell, 2009
As the filmmaker Wu Wenguang* told us in Beijing "a documentary is an opportunity to change yourself, to change your life." The truths about one society can provide the greatest insight into who we are. Beginning in 2005, China went through a rapid economic development that allowed some loosening of official cultural policies except in the domain of film production and distribution. Independent filmmakers did not have a lot of choice. Staying independent meant coping with no funding but looking at stories about the reality of life–but is this not the true definition of independent film? In an interview given to the cultural magazine "Passages" of Pro Helvetia (No. 49/2009), Wu Wenguang further explains that the effect of commercialization and consumerism is the isolation of free-thinking and independent spirits. Independent filmmakers provide the most powerful expression of the pathos of the myriad voices in China.
*Wu Wenguan belongs to the first generation of independent documentary filmmakers. His first story "Bumming in Beijing: The Last Dreamers" follows several artists who migrated to Beijing from different provinces of China in the late 1980s. From Caochangdi, he operates CCD Workstation, a workspace for documentary production and performance art.