Time is money--Efficiency is life
Chinese photographer Yu Haibo tells the story of Shenzhen

by Michèle Vicat

Yu Haibo, photograph William Dowell © 2010
Yu Haibo was in Switzerland for a few days in late May. His photographic project Dafen Oil Painting Village was part of Die Kunst des Verfälschens (The Art of Faking), an exhibition presented at the Ethnographic Museum in Zürich, which showed how China has copied, imitated and forged its own artifacts throughout all periods in history. Modern times are no exception. In 2005, Yu Haibo embarked on the incredible story of documenting art migrants who produce 60% of the world's reproductions of famous oil paintings.

Dafen, an urban village of Shenzhen, has already been talked about in leading magazines and newspapers. Defying imagination, more than 8,000 artists work and live in more than 200 workshops covering 1.5 square miles. It is a place where art has reached a peak in global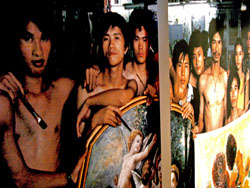 Dafen (detail), © Yu Haibo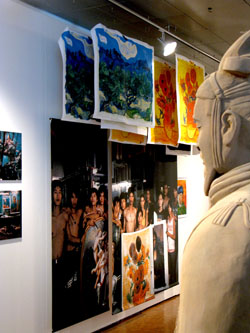 Exhibition detail,
photograph Michèle Vicat © 2010
industrialization. Dafen is so dramatic in terms of size and humanity that Yu Haibo felt that he needed to have the artists themselves participate in his project. « Usually, I take photos on the spot. I do not ask for any participation and I do not create scenes, » Yu Haibo told me. « In Dafen, I took photographs of people while they were painting, eating or sleeping. These are natural moments. But, little by little, I became interested in seeing how these artists were looking at me or at my lens. I felt I needed to represent the craftsmen's gaze. All my other portfolios are spontaneous. Here, there is a composition with people looking at the lens in a moment of silence. »
Here we have a process by which Yu Haibo takes photographs of people who are reproducing artwork while he reproduces in his photographs the mentality and the soul of the crafsmen. This is what most impressed Mareile Flitsch, the director of the Ethnographic Museum of Zürich and a sinologue herself. She recalls the moment Yu Haibo's photographs came out of the fax machine. The images unscrolling on the machine slowly unveiled the intensity in the eyes and the posture of the subjects.

Dafen Oil Painting Village won second prize in the art and entertainment category of the 49th World Press Photo Awards in Amsterdam in 2006. The project is interesting for several reasons. The fact that Chinese from small villages, making copies of western art, have turned Dafen into a global art assembly line is at the core of Yu Haibo's fascination. « The villagers come from very traditional backgrounds, » Yu Haibo explains. « They have a knowledge of Chinese traditional art –if not the classical one, at least the folkloric one which anyway treats Chinese themes. This mix is very interesting. Two cultures run side-by-side, they are no longer antithetical. There is a mix that comes naturally.»

Yu Haibo worked on the project intensely for six months and continues to be involved with Dafen. His photographs are not a final statement because the village continues to grow. The demand for the village's production and the nature of that demand may change in the future. « The relationship between western oil painting and Chinese cultural traditions may evolve, » says Yu Haibo. « We do not know. This is the reason to continue to follow the project. I think that the mix of cultures is not as simple as one plus one equals two. There are many more things to discover, to feel. One day, there will be another dimension, another relationship. This is something quite surreal that goes through time and space. »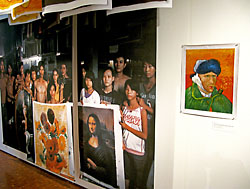 Exhibition detail,
photograph Michèle Vicat © 2010
Van Gogh is very popular in the world's households. On the different websites that Dafen village has developped, one can buy The Man with a Pipe for $40. The reproduction, or should we say one of the reproductions, was hanging on the wall of the Ethnographic Museum of Zürich. The artist, Zhao Qiyong, painted it in 2010. The original dates back to 1889. A natural question would be to ask which art school had trained Zhao Qiyong. Even if the work was done quickly, and still smells of fresh paint, the technique is impressive. So, it is surprising to learn that the artist never went to any art school. « Everybody paints in his family. His younger brother, his wife, » explains Yu Haibo. « They all paint Van Gogh because it is quick. There is also an economic reason because many people like Van Gogh. » The fastest workers in Dafen can paint up to 30 paintings a day ! According to an article published in the German magazine Der Spiegel in 2006, an artist in Dafen will make between $128 and $385 a month. That makes quite a lot of reproductions a day at $0.45 per copy!

The global phenomenom of Dafen Village has earned it a place of honor on and in the city of Shenzhen's pavilion at Shanghai World Expo. One of the façades of the pavilion is decorated with a gigantic Mona Lisa portrait. This is a recognition of the economic impact of Dafen. But what about the artists' identity ? Although the Mona Lisa has the signature of the painters aligned in the bottom right corner, one can ask if a signature is enough to give status to these artist migrants who came to a city created by migrants. This is what Yu Haibo's photographs show or try to make us feel : how a system –-in this case-based on art-- can exploit or compensate workers. Some of these workers come from remote villages and have no training in art. They receive a little training on the spot to give them a technique. Then, they start to reproduce. Others have received a strong art education in art schools. China being what it is in terms of size, many of these graduates cannot find any other job. They can paint, they can be more precise and accurate in their technique. They receive better pay for that. A website boasts that people can buy one hundred copies of Van Gogh's Sunflowers at $33 a piece instead of the usual $50, when done by an art academy graduate. The same painting costs $8 when done by a non-academy graduate. « Surprisingly, » says Yu Haibo « these people live together. Each one does his or her painting. It is a question of survival : everybody is on the same boat. It is production that counts. »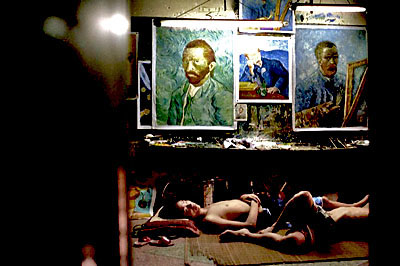 Dafen Oil Painting Village series, © Yu Haibo
Born in 1969 during the Cultural Revolution, Yu Haibo still remembers the cultural uniformity of his childhood. When Deng Xiaoping opened China to the world, the society started to liberate itself but still had enormous problems. Yu Haibo left his native province of Henan in 1987 to study photography at the university of Wuhan, in the neighboring province of Hubei. As every art student in China does, Yu Haibo began by studying painting and drawing. But he knew early on that photography would be his medium. « At the beginning, it was a difficult choice, » notes Yu Haibo. « In the 1980s, photographic material and equipment were difficult to find in China and they were also very expensive. So, it was technically difficult. But it was also intellectually challenging because people did not understand at that time why I wanted to be a photographer and not a painter. »

When the 27-year old Yu Haibo decided to settle down in Shenzhen in 1989, the town was already showing promise. Shenzhen was part of the Special Economic Zone created by Deng Xiaoping in 1980. Back then, this former fishing village located at the doorstep of Hong Kong had a population of roughly 20.000. Today Shenzhen has 13 million people. Deng Xiaoping's Great Urban Leap has succeeded. The Great Economic Leap is more problematic.
Yu Haibo was greatly affected by the conditions under which people lived at that time. He comes from Henan, a province very rich in history but also vey poor, with enormous social problems. Coming to a small place like Shenzhen at the end of the 1980s, was a deliberate choice. The nearness to Hong Kong was an economic and intellectual driving force for the people there. Yu Haibo found books on western art. Ironically, he was exposed to more western art printed in books and magazines than his previous experience with classical Chinese art.

On the Other Shore series,
© Yu Haibo
Already in 1988, Yu Haibo began showing his instinctive inclination for surrealism. On the Other Shore, a series of black and white photographs/collages, allowed him to treat his frustrations and hopes in a more abstract way. Yu Haibo felt a distance between himself and traditional Chinese painting. His resonance was more with the freedom that a camera could give. He also found possibilities and freedom by reading western philosophy.

At the time of his arrival in Shenzhen, he was a young artist but he felt that the city could offer opportunities very quickly. « I saw many poor people » he recounts. « Essentially, they were peasants who had arrived in the city to try their chance and to pursue their dreams. I was in a real city, in a real situation but with people living a dream. It was a surreal situation. »

Yu Haibo immediately felt the dichotomy and wanted to capture it in his photographs. But the life of an artist was hard, so he started to write for an economic newspaper based in Hong Kong. Later, he would quit the paper and go to work for the Shenzhen Economic Daily. Writing and photographing for an official newspaper made it possible to meet people at different social levels. Today, Yu Haibo is the Chief Press Photographer for the Shenzhen Economic Daily and he is also the director of the Shenzhen Professional Photography Association.

« Working for this newspaper gives me the opportunity to create relationships with people, » continues Yu Haibo. « I meet people for a precise job but, later on, I can develop the relationship as an artist. For twenty years, I have been documenting the different groups based in Shenzhen : the prostitutes, the youth, the workers, etc. These are not only groups of people that live next to each other in a city in perpetual development. There are interactions between these groups that belong to a surrealist level of the development of the city. These groups live at the same time separated from each other but they also have a shared story. »


Breath of Night series,
© Yu Haibo

China's Urban Expansion series,
© Yu Haibo
Yu Haibo has an ethnographic approach to the city of Shenzhen. Breath of Night is a portfolio that captures the thundering energy of the city's youth. China's Urban Expansion narrates the surgical effect on the landscape of the destruction of farmlands. The Last Days sensitively recounts the daily life of leprosy patients. China's Global Village shows how Chinese tourists naïvely participate in a conversation with the world. But, beyond the categorization, Yu Haibo asks profound questions about the definition of life. The people he meets are either extremely rich or extremely poor. « What are their dreams ? » the photographer asks. « Rich people are more and more busy with a materialistic dream. Shopping has become one of their favorite occupations. People want to live better. What is in the psyche of people ? Life conditions between rich and poor are fundamentaly different but the search for happiness and the realization of dreams are identical. » The depiction of the individual story, of the individual dream, is what makes a photograph and cements the portfolios together.


The Last Days series,
© Yu Haibo

China's Global Village series,
© Yu Haibo

« Today, the city of Shenzhen continues to grow and attract more and more people, » stresses Yu Haibo. « China is now the first importer of luxury goods in the world. Shenzhen is no exception. The city is developping more prestigious and elegant buildings. Personally, I think that people have lost what they were looking for before. They came not only to find a way to survive but also to meet or achieve a dream. Today, this objective is more difficult to attain. »

It may be one of the reasons why Yu Haibo is now documenting what is becoming the future of the city of Shenzhen. The project China's Urban Expansion shows building sites outside of the city. This on-going documentation reveals more a moment in time than the actual construction. « The site is there, we can see it every day but the moment happens only time to time. Workers are there for a certain time and then the building site takes a different life when they leave. » The black and white photographs reveal the strangeness of material elements which, when incorporated in the global construction, won't have their primal definition any more. They are brought on site as pieces of a deconstructed puzzle. As such, they become abstract. The construction site is irrelevant in a sense like people who are not pursuing a dream anymore but feed the system.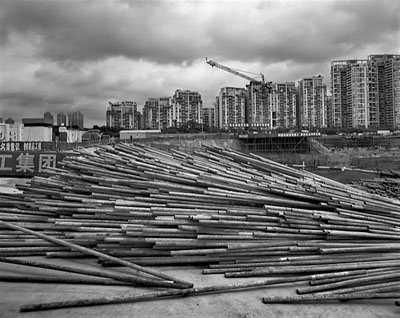 China's Urban Expansion series,
© Yu Haibo
---
We are greatly indebted to Yu Haibo who came especially to Geneva to share his vision about life and photography with us.
We are also grateful to Yuan Li who did more than translating the interview. With charm and grace she added her questions and curiosity to the conversation.
Finally, we would like to thank Dr. Mareile Flitsch, director of the Ethnographic Museum in Zürich as well as Dr. Xiujie Wu, guest curator at the same institution.